Devon's Most Renowned Hog Roast Caterer
Hog Roast Devon has only one goal, and that is to fill the bellies of your guests with great food. We only use the highest quality, locally sourced ingredients, so you know that everything we cook for you is going to be fresh and tasty. Our professional catering team have provided the food for hundreds of different events and parties. We have the experience to make sure that your guests go home happy and impressed. In addition to supplying a standout hog roast for your event, Hog Roast Devon can also provide flavoursome feasts that suit all tastes, including sociable sharing platters with a Mediterranean vibe, exotic and exciting oriental and Indian inspired starters, delicately hand-crafted canapes, and a variety of vegetarian and vegan options.
A hog roast is a great option for practically any event. The meat goes a long way, which keeps your per head cost low. It tastes and smells wonderful. Freshly cooked pulled pork in baps with apple sauce is something most people love.
High Quality Catering Service for the South West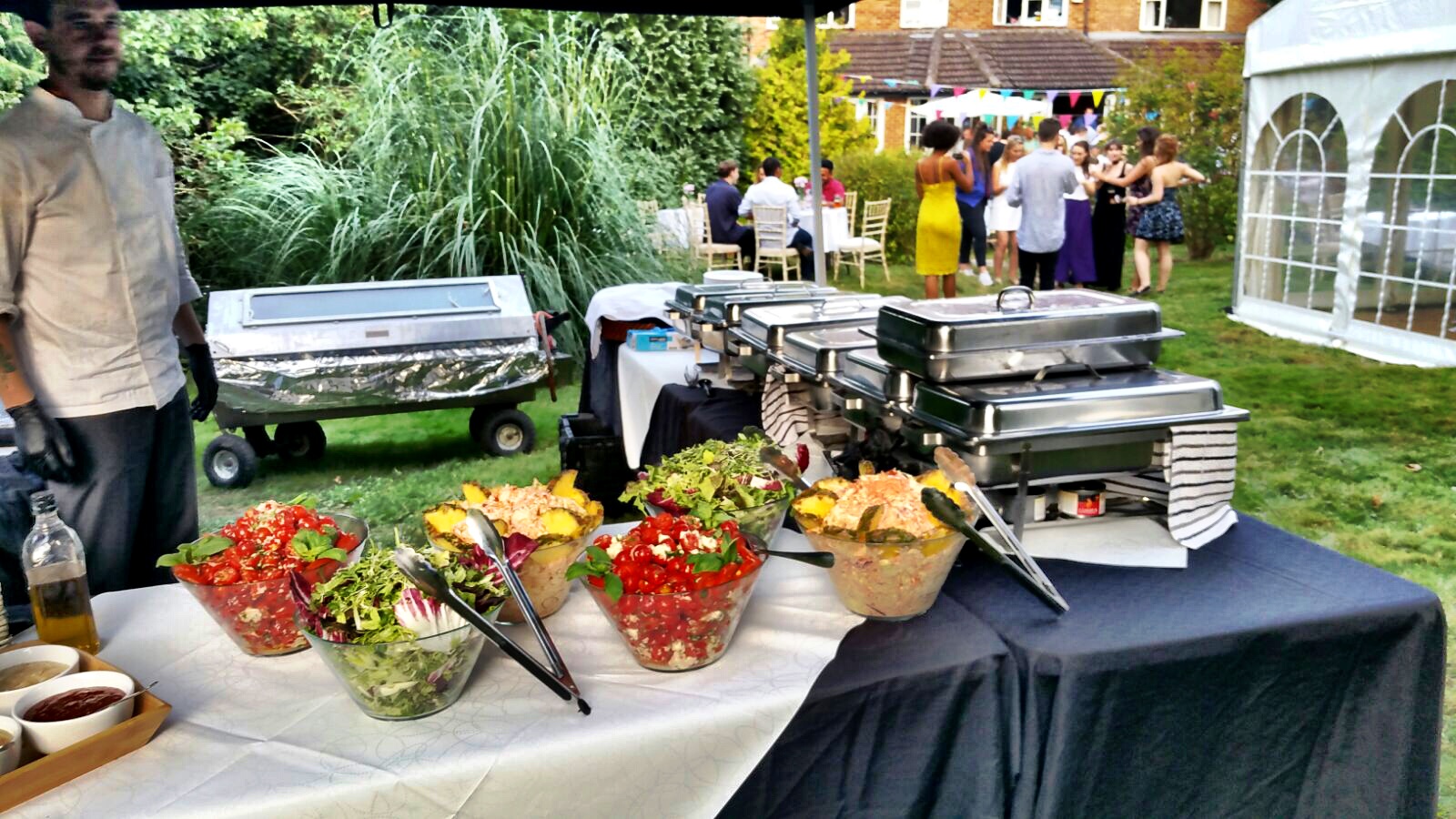 Hog roasts are also a very versatile catering option that can be served in a number of ways. Our mouth-watering pork can form the basis of the ultimate roast dinner served with our homemade apple sauce, stuffing and lots of other trimmings, as well as being served as a carvery style with other meats. We aren't just experts at cooking fantastic pork either – we have a range of other delicious meats on offer, including slow cooked sirloin beef, spit roasted spring lamb and whole chickens cooked rotisserie style. If you prefer, we can also rustle up plenty of tasty flame grilled barbecue dishes.
Our dedicated catering team with arrive at your venue several hours ahead of your event to prepare your choice of meat on-site, as well as freshly preparing the rest of your menu. We will bring with us everything we need to create and serve a delicious meal for you and your guests, and if you require a more formal dining experience, we have professional waiting staff who can provide table service.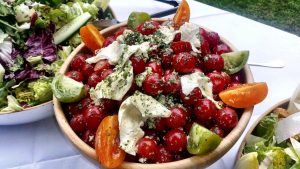 We can also offer a tempting array of homemade sauces and sides, salads, starters, desserts and canapes, in addition to vegetarian and vegan options. Our creative catering team are continually expanding our menus to ensure our food remains very appealing to different tastes and caters effectively for different dietary requirements.
The Best Hog Roasters In Devon
Bored of the usual tasteless, expensive catering options for your events? Why not hire a company that can provide outstanding, flexible catering at a reasonable price that will have your guests talking for years to come? That is Hog Roast Devon. We provide affordable catering options that satisfy the taste buds and leave guests wanting more – they are just too stuffed to be able to eat more!
Not only is one of our hog roasts a delicious catering option, it also offers an impressive centre-piece for any occasion. Our diners love absorbing the aroma of our free range pork during its delicate cooking process and enjoy watching our catering team in action preparing their food right in front of them. Our catering style always helps to create a great ambiance at each event we cater for, not to mention an incredibly tasty feast at the end of it!
Both our regular and new clients love the quality and variety of our food and if you hire the Hog Roast Devon team to cater for your event, we're sure that you will too!
You can also Hire a Hog Roast Machine in Devon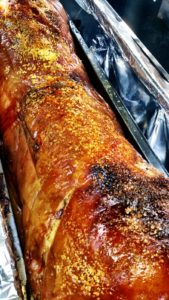 Want a fun and easy way to feed a large group of people at a low price? Why not try hiring one of our hog roast machines. Hog Roast Devon can supply you with all the necessary equipment you will need, including gas and the meat of your choosing.
Our machines are designed with beginners in mind, so they are simple to use but at every drop off we make sure to show you how our machines work and even leave you with some tips on how to make the crackling extra crispy! Just get in touch and ask for a quote!